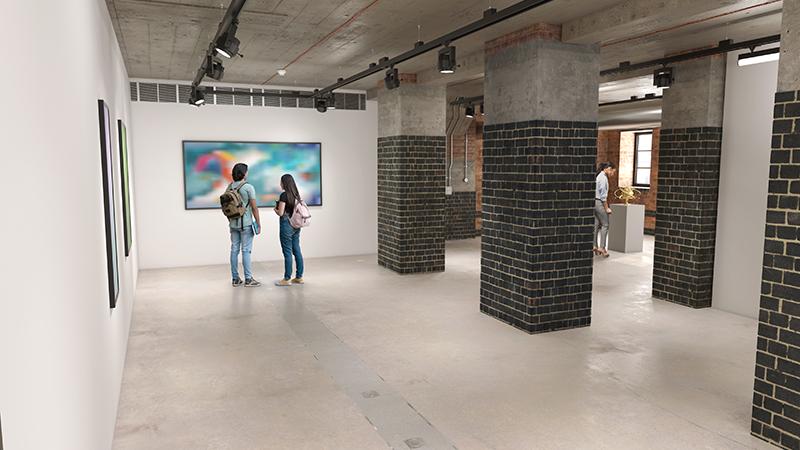 Northampton based company appointed to carry out works to 24 Guildhall Road
Chartered Building Contractor Steele and Bray Ltd, based in Northampton, have been appointed by West Northamptonshire Council to carry out the second phase of improvement works to 24 Guildhall Road.
NN Contemporary Art and West Northamptonshire Council are working in partnership to transform this historic building into a major new cultural centre in the heart of Northampton's cultural quarter.
The £4.7 million project will see the five-storey heritage building transformed into a vibrant creative community, with a contemporary art gallery, affordable creative studios and public space.
Through extensive regeneration, the building is being brought to life to provide a gallery and artists spaces alongside cultural-commercial opportunities. The second phase of works started on site in October and consist of installing new heating and electrical systems, improvements to the expansive upper floors and detailed refurbishment to NNCA's space.
Cllr Daniel Lister, Cabinet Member for Economic Development, Town Centre Regeneration and Growth at WNC added: "We are delighted to be working with local based contractors Steele and Bray to carry out the second phase of work to deliver this ambitious project. Once open, 24 Guildhall Road will offer a unique cultural hub in the heart of the Cultural Quarter in Northampton, complementing the ongoing redevelopment of this part of town.
"Working in partnership with NN Contemporary Art and SEMLEP, we are able to combine our vision to regenerate this central building and offer a space for artists and entrepreneurs across our county and beyond. We look forward to continuing to offer local jobs as we enter into the second phase of redevelopment works, supporting our local economy."